Welcome to the Atlantic Karate Club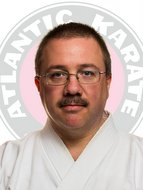 The Atlantic Karate Club has been in operation for over 50 years having started in 1969. We are a non-profit society focused on studying and preserving the art of Chito Ryu Karate-do originally created by Sensei Tsuyoshi Chitose. We are a member dojo of the Canadian Chito Ryu Karate-do Association which is led by Sensei Shane Higashi.
Karate is all about the journey, not the destination. I see it as my job to help you find your path on that journey through the study of Chito Ryu karate. I hope you'll come join us as we follow the path of Chito Ryu karate on that journey. Together we will train hard, train smart, and train often.
Glenn Euloth,
Chief Instructor - Atlantic Karate Club